Ref: Lymph Nodes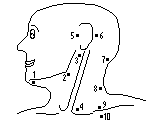 1
2
3
4
5
6
7
8
9
10
Drains:
• Lower 2 incisors
• Tip of tongue
• Center of lower lip
• Center of mandible
Drains:
• Submental glands
• Ant. 2/3 of tongue, except tip
• Remainder of lower lip not drained by submental
• Dentition
Location: top and bottom of SCM.
Upper and lower groups.
Both drains:
• Ant. neck inf. to hyoid.
• Tongue
• Dentition
• Paratracheal nodes
Superior drains:
• Upper hard palate
Lower is closely associated with brachial plexus.
Drains:
• Ant. of meatus
• 2 finger widths ant. of ear
Drains:
• Pinna
• Nearby scalp
Dx is Virchow's node, usually L one:
• Classically, stomach CA
• GI CA
• Pelvic CA
• Other CAs
Location: inferior to clavicle, in groove between pec major and deltoid.
Location: lateral to trachea
Drains:
• Neck deep tissues
Closely associated with recurrent laryngeal
Location: proximal and anterior to medial epicondyle.
Drains:
• Part of upper limb?
Apical group drains all other axillary groups.
Location: around abdominal aorta.
Superior, horizontal, inferior groups.
Location: slightly inferior to inguinal ligament.
Drains:
• External genitalia
• Anus
• Gluteal area
• Abdominal wall below umbilicus
• Superficial lower limb except posterior calf
Dx: inflammation or abcess of drained area.
Location: deep
Drains:
• Popliteal nodes
• Glans penis or clitoris
Location: deep in popliteal fossa.
Dx: lateral heel lesions.